Friday, February 20th, 2009
---
4:18 pm
Sunday, December 14th, 2008
---
3:06 am
Friday, October 3rd, 2008
---
1:31 pm
- My band haha
Lead Vocals

Lead Guitar/Rythim Guitar/Back-up Vocals



Lead Guitar/Rythim Guitar/Back-up Vocals



Bass



Drums
Thursday, October 2nd, 2008
---
1:06 am
- Almost 2 years gone by
I can't believe it's been almost 2 years since I've written anything here. I had forgotten this even existed.
Is anyone still around? I don't know. I'm still here, I'm pretty happy. Singing in a metal band, about to finish my bachellor's degree, single, working at Borders. Yeah... that's pretty much it I guess.

I should start using this again.

current mood: sleepy
Thursday, December 14th, 2006
---
10:21 pm
- Will it Blend: iPod
Sunday, June 11th, 2006
---
4:52 pm
- Quite true...



I do suck at flirting. >_>

Now off to Walmart to buy kitty litter for LEO.

current mood:
full
4:33 pm
- 1st stretch!
Yesterday I stretched from 16ga to 14. I got some cool glow-in-the-dark earrings with my friend, Gabriela, but hers didn't fit because it seems the biggest she could fit was a 16 so I gave her my 16's and I'll wait until she's ready to go to 12ga. Then I'll get some 12's with her and put them on together. :)


(

Picture of one of my ears.Collapse

)



current mood:
happy
Saturday, June 10th, 2006
---
1:53 am
- Leo
Tuesday, June 6th, 2006
---
12:51 am
- My next piercing.
Tragus :)

Oh yeah, and I'm seriously thinking of stretching my lobes to maybe 6g. (Like the picture above... she's got 6g's)

current mood:
sleepy
Monday, June 5th, 2006
---
4:47 pm
- Leo & I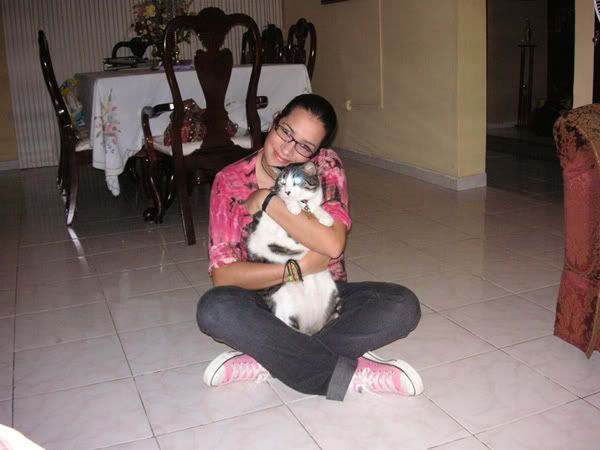 Look at my cat, he's so big.

current mood:
lonely
4:14 pm
- Hello again.
I'm thinking about using this thing again. I've been away from online journals since 2004... shit. I've been off medication for about two months. I stopped taking them without my psychiatrist's consent. I feel okay, I guess. Let's see, what else... I'm still fencing. I finished my first year of college a couple of weeks ago and I'm starting summer classes this Wednesday. I'm only taking one class, Social Sciences. Today I called the place where they tell you what grades you got (before you get them in the mail) and I'm quite disappointed in myself. I expected better grades. I got two A's, 2 C's and a B. I was almost positive that the B was going to be an A... I don't know what happened! That means I have a 3.00 GPA for this semester. 3.30 for the whole year. That's a B... I won't be able to get into the Honor's Program, fuck. Let's see how I do next year... I must do better. My father is going to kill me when the grades get here. Hmmm... but depending on how I do in this summer class I could get the GPA a bit higher. Nah, if I get an A in the summer class I'll just get the GPA to 3.38. It's still a B. *sigh* Well, I guess I got into a good college with a 3.30 GPA in high school and a good College Board test score. I just have to get my GPA up... I have 3 or 4 more years to do it... and get a good MCAT. But I'm getting a bit ahead of myself. I don't think I have anything else to say just now... I hope everyone is OK.

I have to edit my info... it says I'm 16. lol.

current mood:
sad
Friday, July 16th, 2004
---
7:14 pm
Monday, February 9th, 2004
---
10:22 pm
- singing.band.music.yeah.
I can't wait until we start practicing for the song we'll play on Feb 23rd. My dad said that we could practice here at my house. :)
Fernando will be on his electric guitar, Gabriel Vargas on his bass, Joshua on his drums, and I'll be singing. I'm not sure if Tony is going to be playing another guitar. Fernando has a mic so I'll be using that. I'm so excited! Aahhhh! He called me last night and said he had been inspired and he had made some music, kind of funk/rock-ish and it sounds real good. When we practice here I'm going to see if I can record some of it on the computer or something and upload it somewhere.
Woooo. Woooot.

current mood:
excited
3:58 pm
- Ow. :(
My ear is SO red and sore. Ow. I've been cleaning it every day about 3 times a day, I don't know what's wrong. Probably because today 2 people tried to hug me and hit me right where the new earring is. >_<



(

look!Collapse

)



current mood:
sore
Saturday, February 7th, 2004
---
8:34 pm
- CD CD CDs
Bought at Amazon.com:


Drain STH - Freaks of Nature


Joydrop - Viberate


Order Grand Total: $13.95 (includes shipping)

Bidding on at E-bay: (Winning bidder at the moment on all of them)


Superjesus - Jet Age >> $2.34


The Used - The Used >> $2.57


Evanescence - Fallen >> $5.67


When I get them back I am going to make a copy of each and every one of them and I'll keep the originals safe and sound at home.
Last time I payed $21.00 for the Superjesus CD. :x

current mood:
excited
Sunday, February 1st, 2004
---
8:13 pm
- quiz
A- AGE: 16
B- Boyfriend/Girlfriend: Girlyfriend. :)
C- Chores you hate: washing dishes.
D- Dad's Name: Walter
E- Essential everyday item: meds
F- Favorite actor/actress: Franka Potente
G- Gold or Silver: silver
H- Hometown: carolina
I- instruments you play: guitar
J- Job: none
K- Kids: maybe someday.
L- Living arrangement: living with the parentals.
M- Mom's name: Awilda.
N- Number of siblings you have: 1
O- Overnight hospital stays: 1
P- Phobia: mushrooms
Q- Quote you like: I can't remember now.
R- Ride: Rollercoasters.
S- Shows you like: Discovery Channel stuff and Sex and the city.
T- Time you wake up: It depends. 5:30am for school and any hour on weekends.
U- Unique habit: doing "butterflies" with my legs when I'm bored. It's some sort of exercise I think.
V- vegetable you refuse to eat: string beans.
W- worst habit: self destruction
X- Xrays you've had: foot, pelvis, teeth, chest.
Y- Yummy foods you make: grilled cheese sandwich.
Z- Zodiac Sign: Leo

current mood:
bored
Wednesday, December 24th, 2003
---
12:58 pm
- No puede ser más cierto.
Rosas - La Oreja de Van Gogh

En un día de estos en que suelo pensar
" hoy va a ser el día menos pensado",
nos hemos cruzado, has decidido mirar,
a los ojitos azules que ahora van a tu lado

Desde el momento en el que te conocí
resumiendo con prisas Tiempo de Silencio
te juro que a nadie le he vuelto a decir
que tenemos el récord del mundo en querernos.

(coro:)
Por eso esperaba con la carita empapada
a que llegaras con rosas, con mil rosas para mí,
porque ya sabes que me encantan esas cosas
que no importa si es muy tonto, soy así.
Y aún me parece mentira que se escape mi vida
imaginando que vuelves a pasarte por aquí,
donde los viernes cada tarde, como siempre,
la esperanza dice "quieta, hoy quizás sí..."

Escapando una noche de un bostezo de sol
me pediste que te diera un beso.
Con lo baratos que salen mi amor,
qué te cuesta callarme con uno de esos.

Pasaron seis meses y me dijiste adiós,
un placer coincidir en esta vida.
Allí me quedé, en una mano el corazón,
y en la otra excusas que ni tú entendías.

(coro)


Y es que empiezo a pensar
que el amor verdadero es tan sólo el primero.
Y es que empiezo a sospechar
que los demás son sólo para olvidar...

(coro)

current mood:
nostalgic
Monday, December 22nd, 2003
---
10:15 am
- Girl Rock
Ok. I've been doing my... 'research' if you will on girl rock/metal/industrial bands and I've come up with a list. Some I've heard of before, but most of them I know nothing about. I'd just like your opinion if you know about any of these.
The ones that are stikethroughed I already own and I absolutely love them.

Thanks!


Clear Hearts Grey Flowers - Jack Off Jill
Zerospace - Kidneythieves
Burning Season - Faith & Muse
Between Earth and Sky - Rhea's Obsession
Chasing the Ghost - Collide
Fallen - Evanescence
Comalies - Lacuna Coil
Freaks of Nature - Drain STH
Siren - Heather Nova
Haunted - Poe
Beneath the Skin - Collide
University - Throwing Muses
The Damage - Tapping The Vein
Cheap and Evil Girl - Bree Sharp
Some Kind of Strange - Collide
Beware the Heavens - Sinergy
Viberate - Joydrop -> waiting for it to arrive
Jet Age - Superjesus -> waiting for it to arrive
Skindive - Skindive
Gift - Curve
Be My God - Lullacry
Celebrity Skin - Hole *
The Last Star - Half Cocked
Post Orgasmic Chill - Skunk Anansie *
Equally Cursed & Blessed - Catatonia
Sonic Jihad - Snake River Conspiracy
Rockstar Potential - Tuuli
e-lux - Human Waste Project
Serpentine Gallery - Switchblade Symphony
Undone - Tapping the Vein
Speak and Destroy - My Ruin
A Prayer Under Pressure of Violent Anguish - My Ruin
Drink Me - Queen Adreena
Version 2.0 - Garbage -> waiting for it to arrive
In a Reverie - Lacuna Coil
Poor Dolly - The Missing
Trickster - Kidneythieves -> waiting for it to arrive
Oceanborn - Nightwish
Century Child - Nightwish
Bricks Are Heavy - L7

Not girl rock, but I sent for them:

Burst and Bloom - Cursive
Darkest Days - Stabbing Westward

current mood:
curious